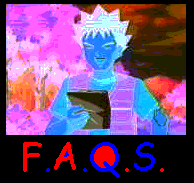 Ranma: Hi, this is the FAQs section of our site.
Goku: Yeah, here, you can find the answers to the questions your sending us.
Akane: And guess what, we now have a new system of askin' questions.
Chi-Chi: Just type in your question and 'tada' your done.
Brock: Pls. feel free to ask any question you want.
Otaru: We will post the answers as soon as we receive them.
Ash: Hope you find the answers to your questions.



Ask us a question!


---

Question: When will the Fushigi Yuugi fanfics come?

Answer: Don't worry their be coming soon enough :)



Question:When R U Gonna put a Izzy and Mimi(DIGYMON PART OR TIE N SORRA)Also Digimon

Answer: Just give me some fanfics and some images to start and I'll try to add it k.



Question: You should put ANdroid 18 and Krillian as a couple or Videl and Gohan because those couples usually don't get much reconision as, say, Bulma and Vegeta or Trunks and Pan. Thankyou!

Answer:Great idea!. I'll search for pictures and fanfics on this couples (if they have)and add it right away when it is enough.

Question:I have a great idea for a romance over Filia and Valgarv from Slayer Try...I'd love to bring it in...How do I submit it a piece anyway?

Answer: Just email them to me as an attachment or give me your url and I'll just get it from there. I'll add the couple as soon as I have enough stuff about them.




|Homepage| FanFics| Images| Vote| Information|
|Thank You| FAQS| Email| Links| WebRings|




all rights reserved.